From John Folk-Williams's blog Cross Collaborate
Despite my share of disappointments with the latest "revolutionary" computer technology, I've become quite optimistic about online video meetings. In contrast to promotions about the potential of "game-changing" breakthroughs, the newly available services look not just promising but extremely useful right now.
The previous post in this series discussed the capabilities of web conferencing, built around the technology of screen-sharing and conventional telephone communication. In the past, that type of web-based application was sharply distinguished from video conferencing, which delivered only the streaming video of the meeting participants. Increasingly, though, these two technologies are becoming a single integrated real-time experience as they add one another's best features.
For example, the screenshot above shows a web conference presentation on Vivu, one of the newest and most innovative services. The concept of its interface is to create the equivalent of a training room or conference hall. In addition to the prominent image of the discussion leader, all the other participants appear in small inset images. As the host permits an individual to speak, that person's image enlarges and appears side by side with that of the presenter or trainer. Though not shown in this shot, the presentation desktop screen can be displayed at the same time.
ViVu also enables small group meetings, as do the other services. This would make it possible to shift back and forth from large group plenaries to breakout sessions, as called for in Open Space Technology and other face-to-face conference designs.
For an example of straight video conferencing, here's a brief demonstration of the Vidyo technology, one of the most advanced I've yet seen for desktop participation. Setting aside the obviously promotional script, the quality of live interaction is extraordinary for its smooth shifting from one speaker to another and excellent voice synchronization. (Since this is a recorded video, however, that quality is somewhat degraded from what you would see in the video stream of a real-time meeting.)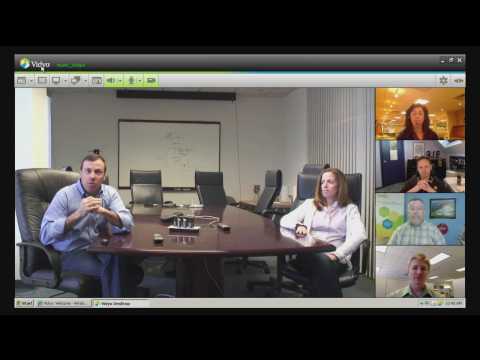 Unlike the other services described in this post, Vidyo is not an application the general public can sign up for online. It requires specialized equipment installed within an organization's system. However, the company has recently introduced an express version of the hardware, consisting of a single unit, that is well within the reach of smaller organizations.
ooVoo is an online service that offers video meetings with up to six participants. ooVoo provides screen-sharing only with its business plan and is most valuable for the high quality of the interactive video discussion.
As shown here, the well-designed interface is one that I find inviting and easy to use. That's an important consideration for participants coming online in video for the first time.
SightSpeed allows nine participants in online video meetings and also includes file sharing. It offers a long list of VOIP calling features, including text messaging, as well as an email system for notifying participants of upcoming meetings. Each session is recorded in full, and these files can be emailed to any participant, or anyone else, for later reference.
Among the services offering fully integrated video and web conferencing tools, MegaMeeting is one of the more established companies that primarily focuses on business users. Online meetings accommodate up to 16 on-screen participants, and the full range of screen-sharing capabilities are available.
Relatively low cost and ease of use for meeting participants are hallmarks of these web applications. Typically, an invited participant receives an email with a link and password to sign on. It's no more difficult than calling in for a telephone conference.
All of the online services charge a monthly fee on a per-user basis and usually offer several plans with additional features at higher prices. Some also allow for per-meeting payment instead of monthly plans. As an example of affordability, ViVu charges $49 per month for unlimited meetings.
I'm encouraged by the rapid development and declining cost of online video technology. Currently available services seem especially well suited for interactive training and group presentations. They can also handle many types of meetings that support multi-stakeholder consensus building processes, such as technical team collaboration, agenda planning and stakeholder caucus sessions.
While I can't imagine any form of online video meeting that could capture the complex interactions of a large and diverse negotiating group, the technology can play an important supporting role. It seems most appropriate for gatherings of professional groups, organizational staff and other communities of shared interests where joint planning, rather than conflict resolution, is the goal.
As the online services continue to advance in sophistication, lower the technical barriers for first users and reduce cost, their use in collaborative public policy work may well become quite common in the next few years.